Recreational activities, info trip
Recreational activities, info trip
RECREATIONAL ACTIVITIES
Târgovişte has 2 parks and one zoo.
Chindia Park was set up 1970, on the meadow of Ialomiţa river, in place of the former Royal Garden.
"Chindia" Park is located in the vicinity of Ialomiţa river and mostly comprises green areas, an artificial lake for recreation, a complex of clay tennis courts and a zoo, with an area of 4 ha, having a various number of animal and bird species.
TÂRGOVIŞTE ZOO is located on the North side of the largest park in the municipality, Chindia Park , in the close vicinity of the Royal Court Museum Complex and Chindia Tower.
The Târgovişte Zoo stretched on a 4 ha area, being located in a very special natural setting, where a very special and varied vegetation is abundant and the visitors, with a clean and peaceful soul, with no preconceptions, feel the joy of a complete relaxation in an oasis full of nature and history.
The Târgovişte Zoo has in its collection species of animals and birds from all continents Europe, Asia , Australia, North America, South America, Africa. Some of these species, being near extinction, are included in special protection and conservation programmes.
Târgovişte Zoo Schedule
* Monday - closed
* 15 March - 30 September: 10:00 - 19:00
* 01 October - 14 March: 09:00 - 16:00
- Fee for filming, photography with non – professional cameras - 20 RON
- Fee for filming, photography with professional cameras - 1000 RON
ENTRANCE FEE
- Adults - 7 RON
- Children over 3 years of age, pupils, students - 4 RON
- Organised groups (over 10 persons) - 3 RON
- Retired persons - 3 RON
- Persons with minor disabilities - 3 RON
- Monthly pass - adults - 100 RON
- Children - 60 RON
The "Mitropoliei" Park is set up in the centre of the city, with green areas and recreation places, having a smaller area.
Located in the centre of the municipality, Mitropoliei Park is surrounded by the two most important arteries of the city – Libertăţii Boulevard and Mircea cel Bătrân Boulevard (former Prieteniei). One of the most romantic meeting places, the park hosts the bust of Tudor Vladimirescu, leader of the 1821 Uprising and assassinated by Eteria members on May 27th 1821, right on the location of the actual park, in front of the Mitropolitan church.
The most interesting attraction is the Mitropolitan church, one of the biggest and most beautiful churches of the throne citadel. Moved to Târgovişte by Radu cel Mare, upon the request of Patriach Nifon, the church was built following the model of St. Sophia. Demolished in 1889 and replaced with the current one, the new Mitropolitan church was raised following the plans of the French architect Lecompte du Nouy.
Also, here we can find the bust of mother Smara, her full name being Smaranda Gheorghiu (1857-1944), who marked a long presence during the inter-war period in the literature for children and youth, aimed especially towards the educational side of this type of literature.
SPORTS COMPLEX
POLYVALENT HALL - 2 Unirii Street
Contact telephone number : 0245/613191
Polyvalent hall, with a capacity of 2,500 places and designed for local, national and international competitions and a stadium.
The Polyvalent Hall is homologated for basketball, handball, volleyball.
TÂRGOVIŞTE SCHOOL SPORTS CLUB - 5 Maior Spirescu Street
Telephone: 0245 215 099 0245 215 099
Fax: 0245 215 099
Site: www.csstargoviste.ro
The hall of the School Sports club is homologated for basketball, handball, mini-football, volleyball, wrestling and judo hall, a swimming pool is in progress of being setup.
TÂRGOVIŞTE MUNICIPAL SPORTS CLUB
8B Revoluţiei Street, Târgovişte
Tel. 0245-640644 Fax 0245-640646
E-mail: csm_tgv@yahoo.com
The sports complex is made of:
EUGEN POPESCU STADIUM - 2 Justitiei Street
"Eugen Popescu" Stadium is the main sports arena in Dâmboviţa Couny. It is located in Târgovişte city, at only a few hundred metres of Chindia tower. With a capacity of approximately 12,500 places, it hosts the football games of Chindia Târgovişte team, but also numerous athletic events at county level.
SWIMMING POOL - 1 Maior Spirescu Street, Micro III area.

telephone: 0731.328.434
The swimming pool has 25 m in length and a 12.50 m height and the depth varies between 1.40 m and 2.00 m, with an approximate volume of 445 m3. The swimming pool is equipped with lockers, rest rooms and showers divided by gender, reception with an annex, medical practice.
The temperature of the water in the pool is according to the standards, with values between 28 and 30 degrees and its quality is verified daily, complying with the norms in force.
Program:
Monday – Sunday: 10.00 am – 9.30 pm
Swimming Pool Fees:
- adults: 10 RON / day
- children under the age of 14: 5 RON /day
- pupils, students or groups of minimum 10 persons: 7 RON/ day / person
PASSES:
- 200 RON/ month – for a 1 month pass
- 175 RON/ month - for a 3 months pass ( total 525 RON/3 months)
- 150 RON/ month - for a 6 months pass ( total 900 RON/6 months).
Swimming Pool telephone: 0731.328.434
Field tennis courts – Chindia
Gymnasiums assigned to the schools and high schools in the municipality
Cub Center, the first Strip Mall in Dâmbovița county, has an area of ​​over 3000 square meters and is built near Square 1 May (Piața 1 Mai).
The brands present are: JYSK, Lems, Decathlon, KFC, Zoo Center, Kik, Noriel, Queens (Jolidon, Piera, Triumph), Zeka Fashion, Juba Caffe, Diniland Junior, Grocery Store "La Bunicul Matei" and Hyperclinica MedLife.
Address: Street Lt. Stancu Ion, no.2E, Târgoviște
Website: http//:www.cubcenter.ro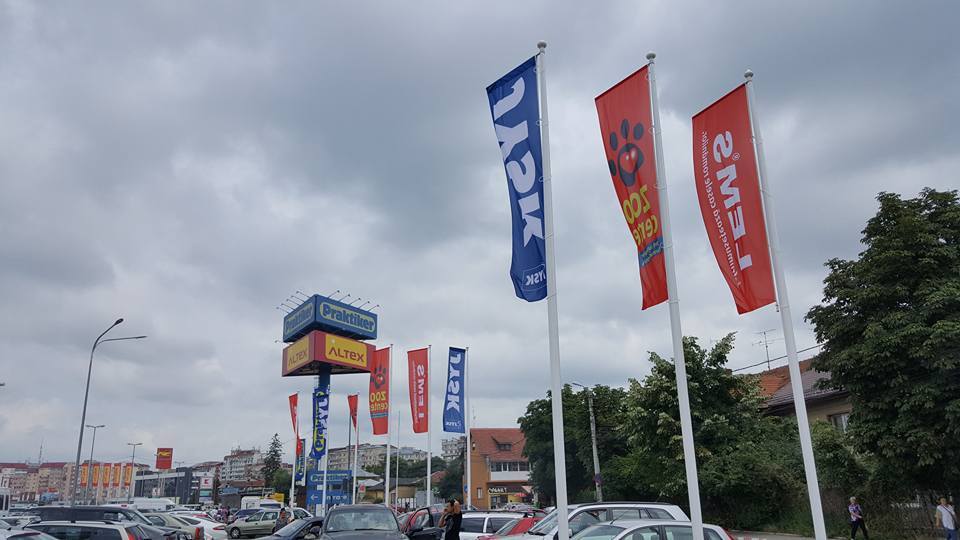 Muntenia shopping center is a building structured on the basement, ground floor and floors, being equipped with rolling stairs. In the basement is the most dynamic electro-IT retailer in Romania, on the ground floor there is a supermarket belonging to the largest chain of supermarkets in Romania, a grocery store belonging to a concern of cosmetic stores and consumer goods in Germany, and on the up floor a Chinese store. Besides these there are: confectioneries, cosmetics shops, flower shops, souvenir shops, etc.
Brands present in Muntenia Shopping Center: DM Drogerie Markt, Mega Image, Flanco, B&B Collection, KENDRA Beauty Cosmetics, Us Polo Assn, Hyperici Farm 100% natural, Happy Day, Friends Kitchen, China Mega Shop, Edenic Art.
Address: Boulevard Independenței 1, Târgoviște, Romania
Telephone: 0245217238
Website http://www.munteniashoppingcenter.ro
Facebook https://www.facebook.com/munteniashoppingcenter/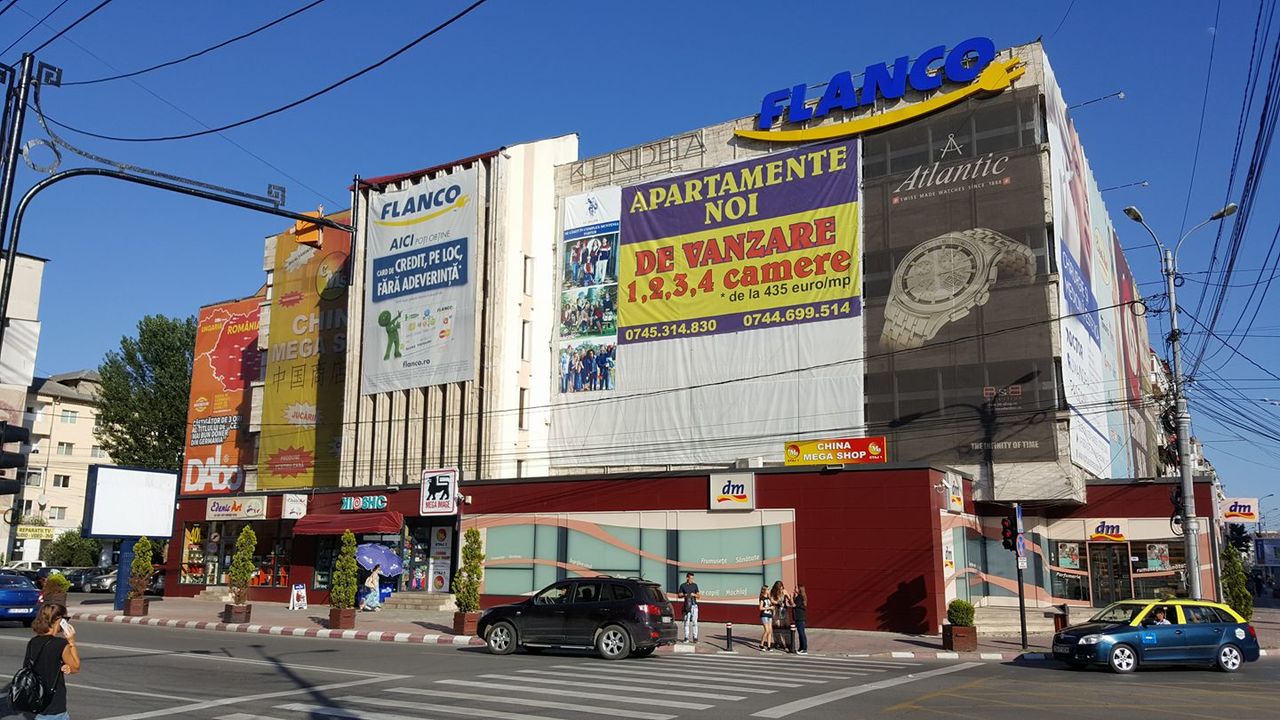 The Penny Market commercial gallery is a commercial group belonging to the German REWE Romania Group, in which brands such as Deichmann, Pepco, Takko are grouped together.
Address: Arsenal Street, Targoviște, Romania.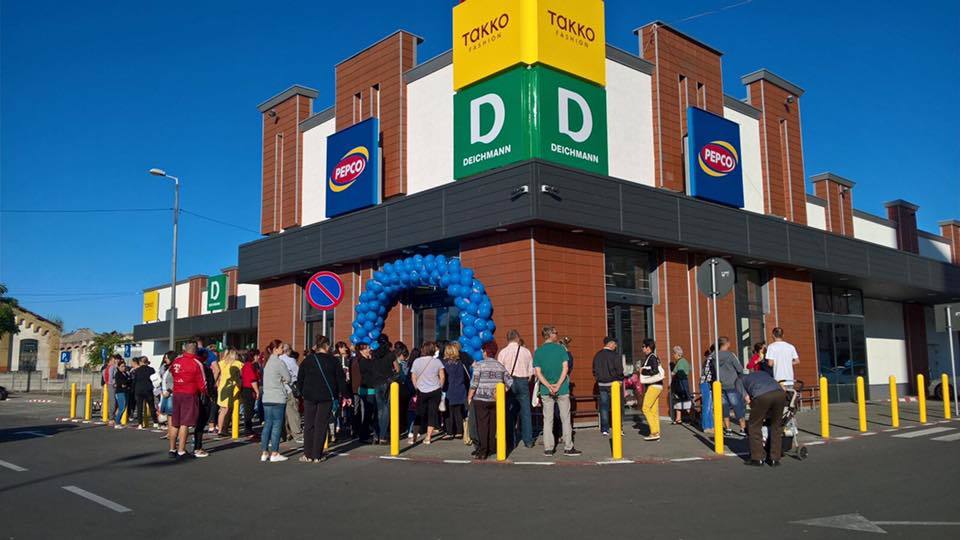 Dâmbovița Mall
With a total built area of over 70,000 square meters, Dâmbovița Mall awaits its visitors with a selection of national and international brands, such as: Hypermarket Carrefour, C&A, LC Waikiki, Sinsay, Hervis, House, Cropp, Intersport, Sportisimo, DM, Sizeer , Noriel, New Yorker, CCC, Pepco, Deichmann, Altex, Flanco, Boutique17, Meli Melo, Smyk, Teilor, Kendra, Splend'or, Happy Day, Juba Caffe, KFC, Spartan, Mesopotamia, Transylvanian Delights, Orange, Banca Transilvania , Arsis, Travel Brands, Total Wash, Animax.
On the first floor, the inhabitants of Dâmboviţa County have at their disposal a new modern space of the Community Public Service Driving Permits and Vehicle Registration Regime, where all vehicle registration activities, examinations and issuance of car premises are carried out.
In the outdoor parking lot, there will also be a DriveIn Cinema, as part of the first network of open-air cinemas with free access in Romania. The projection screens have a size of 300 square meters each, which will allow viewers to watch movies in the best conditions. Those who want to participate can register online on the platform www.dambovitamall.ro/cinema.
The Tourist Swimming Complex of Târgoviște proposes to visitors a generous offer of leisure and relaxation services, which includes an Olympic pool, an outdoor pool with swimming pools, gymnasiums and a sauna. In addition, there are 7 mini-football, tennis, volleyball, handball and basketball courts, children's playgrounds, 225 parking spots, bike and rollers paths and an event platform.
The Olympic pool represents an opportunity to practice swimming in both summer and winter and has 10 aisles, a generous grandstand and modern changing rooms. The water depth measures 207 cm and its temperature does not drop below 27 ° C. There are daily swimming courses with specialized instructors.
The swimming hole includes 4 swimming pools, a landscaped beach, umbrellas, sunbeds, slides and it's opened only during the summer season.
| | |
| --- | --- |
| Indoor pool schedule | Outdoor pool schedule |
| Monday: 08.30 - 21.30 | Monday: 11.00 - 20.30 |
| Tuesday: 08.30 - 21.30 | Tuesday: 10.00 - 20.30 |
| Wednesday: 08.30 - 21.30 | Wednesday: 10.00 - 20.30 |
| Thursday: 08.30 - 21.30 | Thursday: 10.00 - 20.30 |
| Friday: 08.30 - 21.30 | Friday: 10.00 - 20.30 |
| Saturday: 08.30 - 20.30 | Saturday: 10.00 - 20.30 |
| Sunday: 08.30 - 20.30 | Sunday: 10.00 - 20.30 |
Address: Targovişte, Calea Ialomiţei, no. 9–15, Dambovita county
Telephone: Land line phone: 0245/708713 Mobile phone: 0757093152
E-mail: dctntargoviste@gmail.com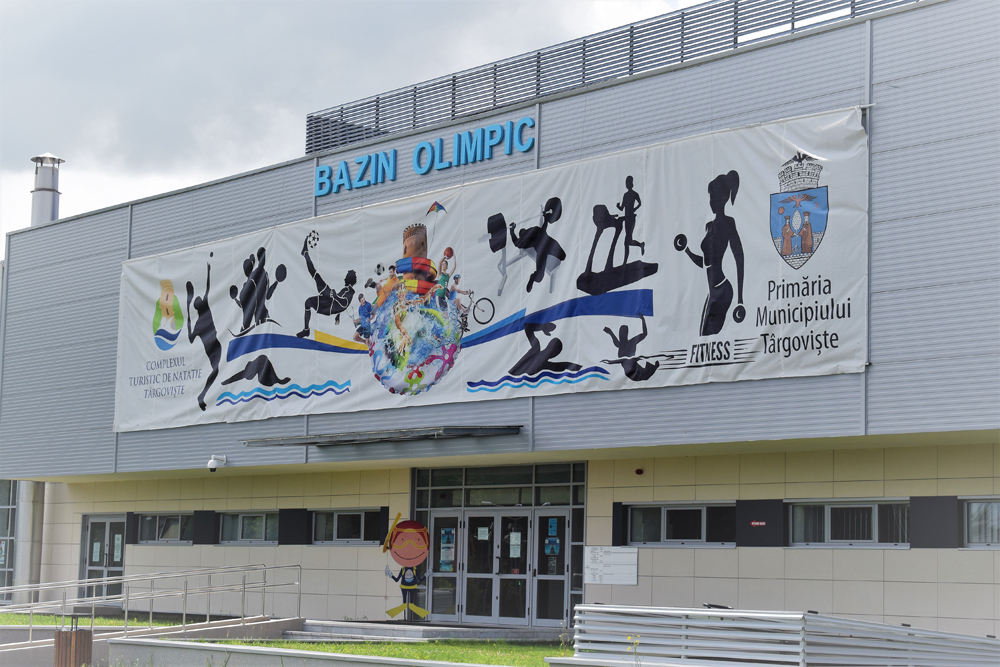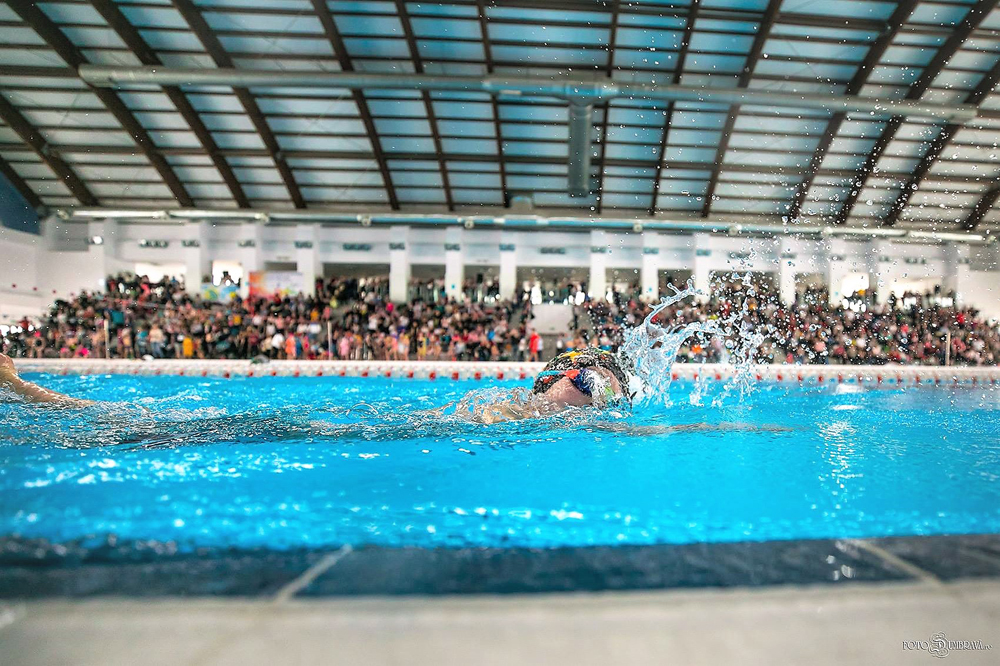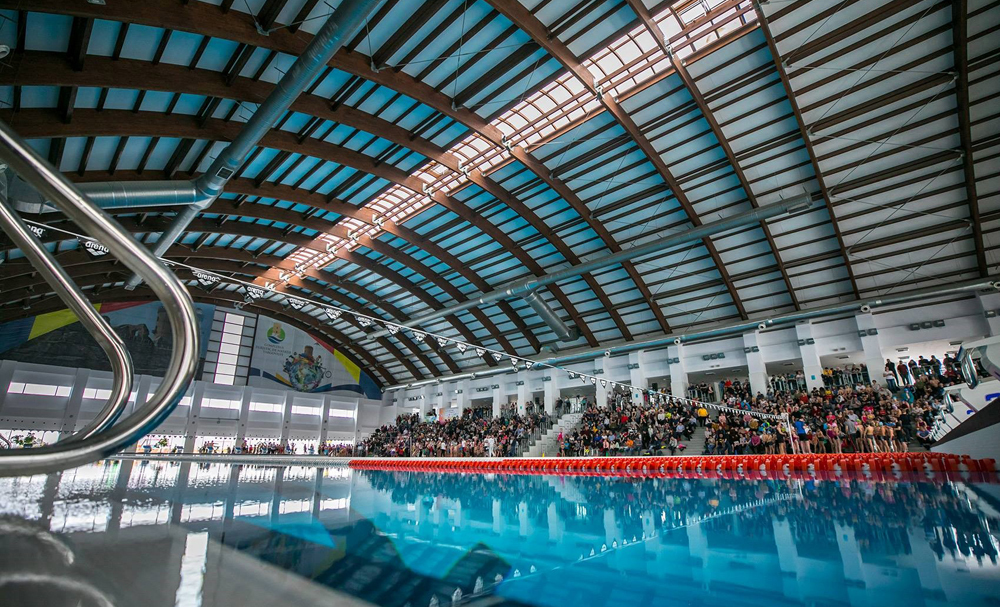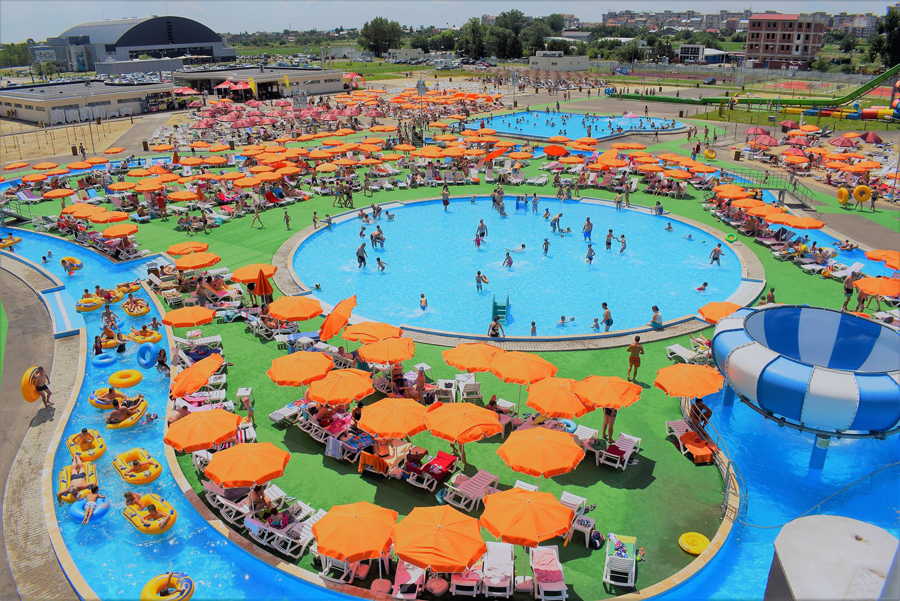 Tony Bulandra Theater in Târgoviște was inaugurated on January 30, 2002 and quickly became the main cultural landmark in the Târgovişte community. In its two halls (the Great Hall and the Studio Hall Mihai Dimiu) there are shows and plays for all ages.
Since its establishment until now, the theater has participated with its productions in numerous national and international festivals.
Tickets Agency Schedule:
Monday– Saturday: 9:00 – 19:00
E-mail: rezervari@tonybulandra.ro
Address:
Boulevard Regele Carol I no. 43
Targoviște 130024 Dambovița, Romania
Telephone: (004) 0245.210.046
E-mail: contact@tonybulandra.ro / pr@tonybulandra.ro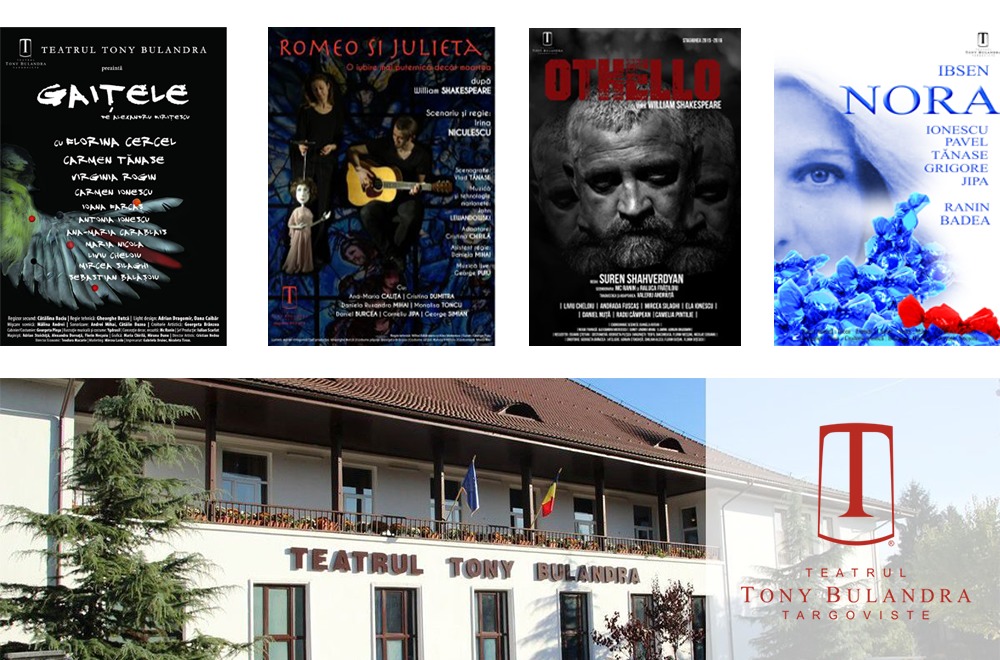 "ODISEU" Theater is a non-profit semi-professional culture institution operating within the KUBART Cultural Association founded by the director and playwright Ștefanis Lupu, on March 1, 2016 and aims to develop the artistic level of the productions and to attract the young audience through our specific nowadays' shows.
Address: Street Stelea No. 1, Targoviște 130018, Romania
Telephone: 0721243399
Email: teatrulodiseu@gmail.com
Website: http://www.teatrulodiseu.ro
Facebook: https://www.facebook.com/teatrulodiseu/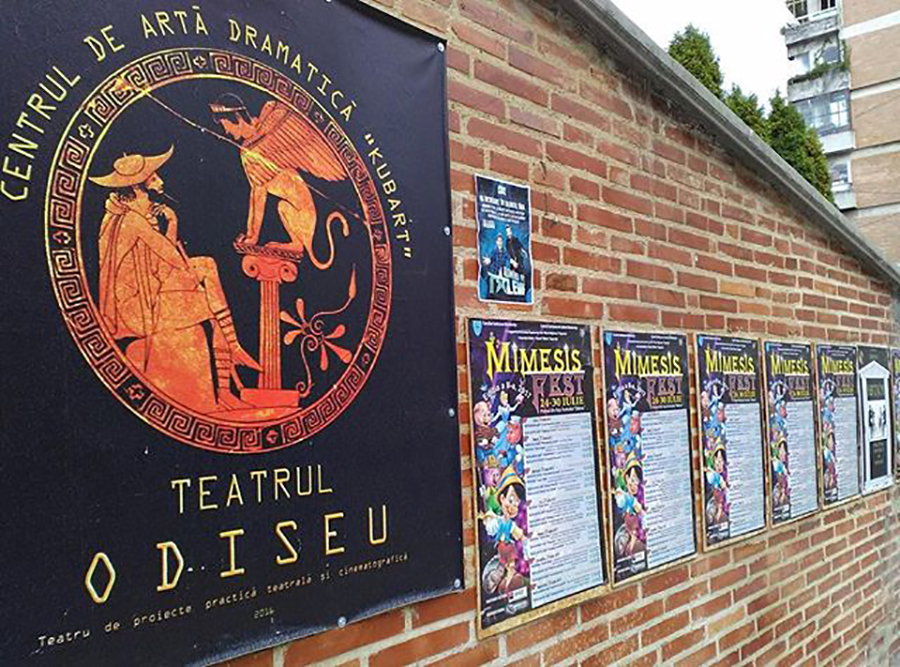 Fuel prices
Fuel prices
Benzina +
Benzina 95
Motorina +
Motorina
GPL

6.65

lei

Targoviste

6.04

lei

Tartasesti

6.53

lei

Targoviste

6.13

lei

Tartasesti

2.98

lei

Targoviste
Weather
Weather